Banking and Finance
Risk management, banking and corporate finance are among the core businesses of the banking and finance industry. The focus of the bachelor degree programme "Banking and Finance" is to grasp, both practically and theoretically, the complex relationships in the sector and the derivations thereof.

The programme further entails extensive knowledge of the insurance industry. This combination could be the foundation stone of a career set in the banking and finance sector.
Graduates of this programme can
identify and analyse the various operations of banks and insurance companies
apply concepts and methods in consumer banking, risk management, mathematics and corporate finance
distinguish between and evaluate insurance products
put insurance controlling methods into practice
analyse and propose solutions for questions related to finance (e.g. portfolio selection, fixed-income securities and options) and corporate finance (company finance and valuation)
combine intercultural management skills and occupation-specific English abilities in order to work effectively in an international environment
Career options
Customer relationship manager
Asset manager
Account manager
Financial analyst
Portfolio manager
Auditor or tax consultant
Martina Davis, coordinator of bachelor programme banking and finance
Contact
Martina Davis
Coordinator
+43 1 720 12 86-31
Informationen zum Studiengang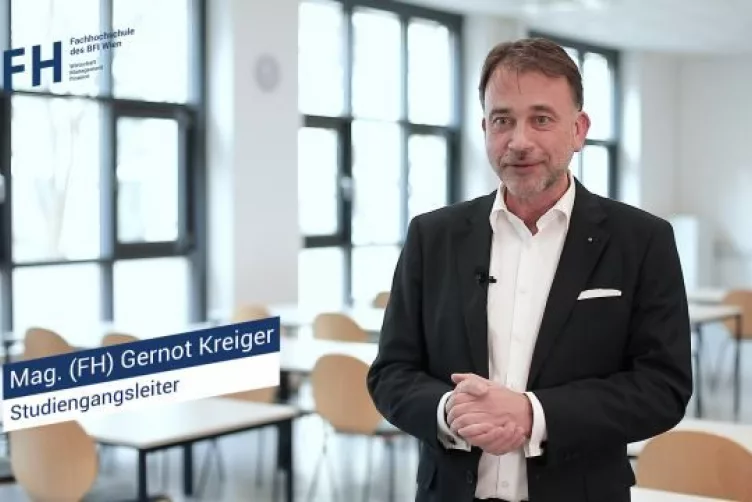 Studiengangsleiter Gernot Kreiger stellt sein Bachelorprogramm vor und beantwortet folgende Fragen:
1. Was ist das Besondere an Ihrem Studiengang?
2. Welche Möglichkeiten habe ich nach dem Abschluss?
3. Was sind die Aufnahmevoraussetzungen?
Video Transcript
Der Bachelorstudiengang Bank und Finanzwirtschaft dauert insgesamt sechs Semester. Sprich drei Jahre. Man hat dabei die Möglichkeit sich später entweder auf Bank- oder Finanzwirtschaft zu spezialisieren. Das heißt, wir bilden nicht nur für die Bankindustrie aus, sondern auch für Versicherungen und große Industrieunternehmen, wo unsere AbsolventInnen dann im Treasury oder ähnlichen Bereichen tätig sind. Das Ganze gibt es in einer Vollzeit-Variante und in einer berufsbegleitenden Variante. Das heißt, man kann nach dem Büro um 18 Uhr noch immer in die Vorlesung gehen und in sechs Semestern berufsbegleitend studieren. Wir bilden AbsolventInnen aus, die in der Praxis sehr gerne gesehen sind. Sie genießen dort einen hervorragenden Ruf, weil wir neben den theoretischen Inhalten den Fokus ganz klar auf die Praxis und die Anwendbarkeit in der Praxis legen, weshalb unsere AbsolventInnen in relativ kurzer Zeit ihre Tätigkeit in der Bank, Versicherung oder große Industrieunternehmen aufnehmen können. Das Besondere am Studiengang ist, dass wir in enger Abstimmung mit unseren Partnern die Inhalte immer wieder evaluieren und auf die gerade stattfindende Transformation in der Branche abstimmen. Digitalisierung ist ein sehr großes Thema. Das Ganze wird mehr IT-lastig werden in Zukunft. Und wir wollen natürlich, dass unsere AbsolventInnen in 5 oder in 10 Jahren genauso gefragt sind wie heute. Daher passiert eine sehr enge Abstimmung über die Inhalte. Genau diese Inhalte werden nicht nur theoretisch unterrichtet, sondern von Praktikern eins zu eins an unsere Studierenden weitergeben, was gerade in der Praxis besonders gefragt ist und was dort abgeht. Viele werden sich vielleicht fragen, warum man gerade in diesen Zeiten,10 Jahre nach Lehman Brothers, Bank und Finanzwirtschaft studieren soll. Es wird in 10, 20, 50 Jahren immer noch Banken geben. Sie werden wahrscheinlich ein bisschen anders aussehen als heute. Mit diesem Studium erwirbt man eine sehr breite, fundierte Basisausbildung, die man sofort in der Bank- und Finanzwirtschaft anwenden kann. Vor allem ist man am Puls der Zeit. Wo sitzen unsere Absolventen? Im Treasury, Controlling, also überall dort, wo eine Bank gesteuert wird. Wir lernen hier auch, wie eine Bank funktioniert, sprich Gesamtbanksteuerung ist ein Thema. Sie finden aber genauso ihre Tätigkeiten im Kundenbereich, sprich Corporate Finance, dort wird es trotz aller Digitalisierung auch in 10 Jahren noch immer Menschen geben, die die Großkunden beraten. Unsere AbsolventInnen finden wir auch in Versicherungsunternehmen, entweder im Aktuariat oder im Risikomanagement, aber auch in großen Industrieunternehmen, wie etwa OMV oder Siemens, wo sie im Treasury oder in den entsprechenden Finanzabteilungen tätig sind. Die Aufnahmevoraussetzungen für das Bachelorstudium sind eine Matura, entweder AHS oder BHS, sprich HTL, HAK oder vergleichbares. "The fact that the programme is ideally tailored to part-time students and many lecturers come from the banking and finance sector was a key factor in my decision to choose this degree. I like the way the university is so open to suggestions from students – and that the relationship with lecturers is like a partnership."

Andreas Kuen, BA, programme graduate
ECTS and course information