Long-term Rewards
The transition to a sustainable economy is a global challenge. Numerous new developments and plans at an international and European level already point to greater involvement of financial institutions and businesses, such as the EU taxonomy expected in 2021.
In our compact course, the first with a university certificate in Austria, you will learn what these sustainability aspects actually mean and how they can be integrated into business decisions. The new executive programme provides you with a structured overview and in-depth information on integrating environmental social governance (ESG) criteria into the planning of financial flows.
The topics of the individual modules are developed with experts from the Institute for Sustainable Finance (Inafina) and are presented to you by renowned experts with a strong practical relevance in German. Occasional English-language units will not be translated. However, literature for preparation is available in German and English.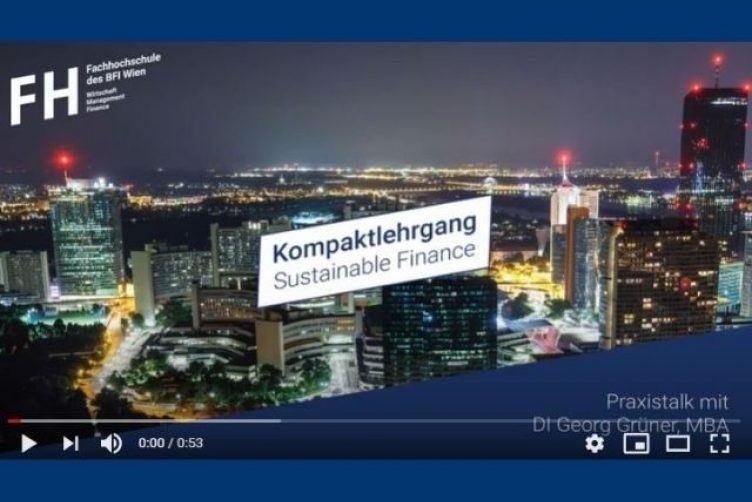 Modules
The learning contents were developed at the UAS BFI in Vienna with experts from the Institute for Sustainable Finance (Inafina). They are presented by proven experts with strong practical relevance. The course language is German. Occasional English units will not be translated. Literature for preparation is available in German and English.
Basics and regulatory Framework
Sustainable Finance and the 2030 Agenda
EU Action Plan & Taxonomy
European Investment Strategies & Green New Deal
ESG Performance of Companies
Management
ESG Reporting & NaDiVeG
Sustainable Investment
Sustainable Investments
Analysis and influencing Factors
ESG Guidelines: Standardisation & Quality Assurance Ecological Footprint of Bonds
Sustainable financial instruments and strategies
Business Case: Sustainable Financing
Sustainable Risk Management
Sustainable Financial Instruments
Sustainable Project-financing vs. -refinancing
Thesis
Individual or group work with practical aspect (online submission) within the framework of 3 ECTS credits (for Master students International Banking & Finance)
University certificate with at minimal 70% attendance

Cooperation Partners
The UAS BFI Vienna offers the Executive Programme in cooperation with the Institute for Sustainable Finance Inafina under the scientific direction of two proven experts in the field of sustainability and sustainable finance.

Mag.a Karin Huber-Heim is scientific director of MSc Sustainability & Responsible Management at the Executive Education Center of the UAS BFI Vienna and lecturer for corporate sustainability and SDG strategy at several universities. Huber-Heim is a member of the Steering Committee in the Global Compact Network Austria and head of a research group at the Bertalanffy Center for Systems Sciences in Vienna. She has extensive international project experience, regularly publishes in specialist journals on the topic of economics and sustainability and has been working on possibilities for the integration of ecological and social criteria in the field of banking & sustainability since 2009. Finance.
Dr.in Heidrun Kopp MBA MA, studied in Vienna, London and the USA and is an expert in CSR & sustainability with many years of experience in the international banking sector. Her focus is the integration of CSR & Sustainable Finance into the core business of companies and financial institutions. A focus of her work also includes active stakeholder & community management. Kopp presents her know-how in numerous specialist forums, publications and lectures. Kopp is head of the Institute for Sustainable Finance as an information and communication forum for sustainable, ecological and social initiatives in finance with a focus on green/sustainable finance.

At the Executive Education Center your studies are ...
practice-oriented - with lecturers from industry and academics
innovative - through online and face-to-face offers
interdisciplinary - thanks to programmes from different fields
part-time - with compact study periods or online offers
familiar - in small, motivated groups with dedicated lecturers
international - connected to a worldwide network
affordable - thanks to deductibility and financial support