MSc Sustainability & Responsible Management
Attitude and Success
Resource scarcity, climate change, financial crises, demographic developments, technological advances and international supply chains pose major challenges for responsible companies and organisations. New approaches and "out-of-the-box thinking" are more in demand than ever.
The master's course Sustainability & Responsible Management offers you innovative models to run businesses sustainably while maintaining their competitiveness. In 2014 the course was awarded the Sustainability Award for "Teaching and Curricula".
Your network is also sustainable: the UAS BFI Vienna is a member of respACT (Austrian Business Council for sustainable development) and a member of the UN Global Compact UNGC. The scientific director Mag.a Karin Huber-Heim is a member of the Austrian "UN Global Compact Steering Committee".
The UN's Sustainable Development Goals and the MIT Sloane School of Management's Climate Change Negotiation Simulation are an essential part of the curriculum. Thus you can span the arc from theory to practice and also experience the negotiating dynamics with different stakeholder groups.
Modules
The UN's Sustainable Development Goals are an integral part of the curriculum. You learn how to make the transition from theory to practice and extend your network by forging new contacts to key stakeholders.
Mag.a Karin Huber-Heim, Scientific Director, UAS Lecturer, CSR and communication
"A sustainable economy needs managers with integrity and foresight. Our program trains executives who are able to manage the complexity of global value chains as well as the claims of different stakeholders responsibly."
Mag. Reinhard Friesenbichler, lecturer
"Ultimately, it is the financial market that makes resources available for or withdrawn them from companies and projects. To understand and to use this is the core issue of a sustainable investment."
Modul 1: Grundlagen
Introduction: Responsible Business & Sustainable Development SDGs - Vision, Mission, Goals & Targets for Sustainability
SDG Action Manager Ethik & Unternehmen - Individual-, Sozial- und Institutionenethik Internationale Richtlinien: SDGs, UNGC, ISO2600, OECD
Betriebswirtschaftliche Grundlagen & ökonomische Theorien für das 21.Jhd
Collaboration, Cooperation, Empowerment: The Climate Negotiation-Experiment / MIT Scenario Tool
Modul 2: Stakeholder Engagement
Identification and Engagement of Stakeholders
Expectations and Relationship Management
Stakeholder Theorie und Praxis
Stakeholder Mapping & Landkarte
Community Engagement I - Methods and Digital Tools for Stakeholder Engagement
Modul 3: Unternehmerische Verantwortungsübernahme
Strategisches Management, Relevanz & Wesentlichkeit - Value Chain, Impacts, Materialitymatrix, Sphere of Influence
Sustainable Growth Discovery
Unternehmensfootprint & Science Based Target Initiative
SDG Compass & Impact Reporting (Digitales Kennzahlenmonitoring &-management)
Modul 4: Wissenschaftliches Arbeiten
Empirie, Theorie, Forschungsmethodik (qual. & quant.)Hypothesen, Forschungsfragen, Untersuchungsdesign
Modul 5: Kernthemen gesellschaftlicher Verantwortung
Corporate Governance (Organisationsführung, Compliance, CoC, ..) Design for Impact: Measurement & Reporting Menschenrechte I - UN B&HR, Unternehmenspraxis, Vorsorgeprinzip, Due Diligence, Compliance Menschenrechte II - Sensibilisierung und Antidiskriminierung CSR related standards : Labour - OHSAS 18000, SA 8000Climate & Energy Management: ISO 14000 & Life Cycle Assessment Fair Operating Practices: Anti-Corruption / UNDOC Online Test & Zertifikat Responsible Supply Chain Management / Blockchain Technology & Kollaboration
Modul 6: Strategic Sustainability
Nachhaltiges Investment - Auswirkungen, Trends, Indizes, Ratings / Portfoliobewertungstool Cleanvest.org Changeprozesse auf Organisationsebene SDG Compass & Ressourcen: GHG Protocol Scope 3 Evaluator, Social Hotspots Database, Human Rights and Business Country Guide, WBCSD Global Water Tool, Poverty Footprint Tool Integrated Corporate Responsibility & Sustainability Management / Nutzung digitaler Management-Tools Sustainable Entrepreneurship in Theory und Practice - Austrian SME case studies Public Policy: SDGs, Corporate Responsibility & Environmental Policy
Modul 7: Methoden
Community Engagement: Methods and Digital Tools for Stakeholder Engagement II: miro, slack, kahoot, mentimeter, matrix.org, mastodon, quoto.org, etc. Systems Perspectives for the SDGs Systems Thinking in Practice Organisationskultur und - analyse
Modul 8: Leadership
Designing Your Life: Design Thinking on an individual level I Designing Your Life: Design Thinking on an individual level II Sustainable Leadership Leadership & Dilemma Management
Modul 9: Next Economy
Circular Economy: School of Thoughts and Regulative Framework on EU levelCircular Business Modell Innovation and Finance Perspective Circular Value Chain Modeling Circular Economy Tool Box - Ellen McArthur & TU Delft Method Collaborative Innovation / Innovation Sprint ModelReflexion & Prüfungsvorbereitung/ Meet & Greet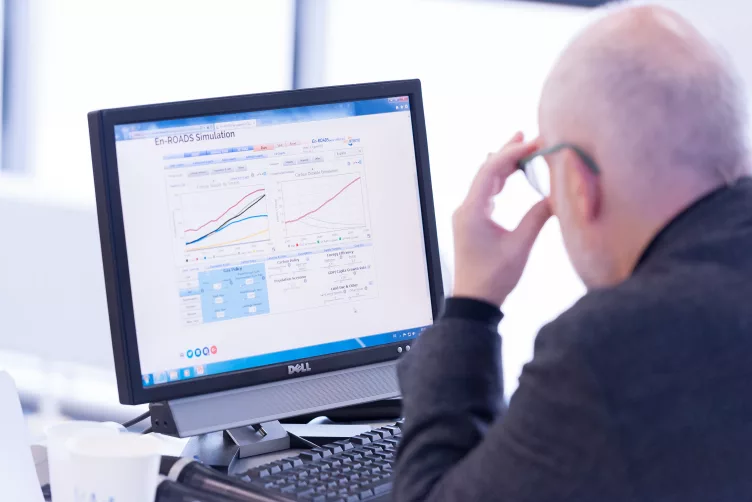 Contact
Anita Stiedl
Coordination of Executive Education Center
Tel.: +43 1 720 12 86-949
Contact
Barbara Lischka, MSc
Head of Executive Education Center
Tel.: +43 1 720 12 86-47
Informationen und Bewerbung
At the Executive Education Center your studies are ...
practice-oriented - with lecturers from industry and academics
innovative - through online and face-to-face offers
interdisciplinary - thanks to programmes from different fields
part-time - with compact study periods or online offers
familiar - in small, motivated groups with dedicated lecturers
international - connected to a worldwide network
affordable - thanks to deductibility and financial support